IDE 1670/IDE 1670s (Hot & Cool)
Quantity
Add Quotation
Ruhens Hot and Cold Water Purifier
IDE-1670/1670s
IDE 1670 (Floor Standing)
IDE 1670s (Table Top)
Features:
Pasteurization system

Smart & Premium design

Hidden display lighting system

Electronic touch button system

Environmental friendly

2 temperature purified water :Hot & Cold
Description:
EASY FAUCET CLEANING
Removable hygiene guard makes cleaning simple for enhanced hygiene.
SELF-CLEANING COLD WATER TANK
Sterilizes the inner part of the cold tank through the PASTEURIZATION

.
ECO MODE SYSTEM
Automatically power off the heating system at night by the photo detector.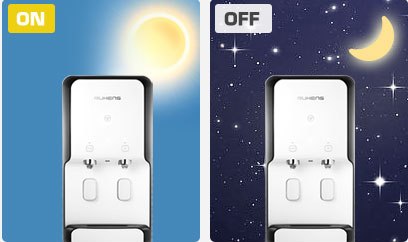 CONTINUOUS EXTRACTION
Purified water is dispensed continuously while touching the continuous extraction button.
99.9% of germs killed with pasteurization with 65ºC of heating for 30 minutes
Only dispenser with pasteurization technology

Elegant design that suits your kitchen interior

Captivating the world with the patented technology

4 stage filtration system retaining the positive/; healthy minerals in our water
4 Stages of Filter System



Step 1 Sediment Filter
Filter Material:Polyethylene

Remove suspended solid rust,impurities and other large substances

Step 2 Pre-Carbon Filter
Filter Material: Active Carbon

Efficiently remove chemicals,toxins,unpleasant flavor and odor which arehard to be biodegradable

Step 3 UF Membrane Filter
Filter Material: Polysulfone

Remove general bacteria and coliform but pass minerals to provide beneficial water for human body. And enhance antibacterial function.

Step 4 Post Carbon Filter
Filter Material: Active Carbon

Increase water purity by removing gas and bad odor which remain in the water
Specifications:

IDE 1670 (Floor Standing)

DIMENSION (PRODUCT) mm

260 * 360 * 1100

DIMENSION(BOX) mm

325 * 425 * 1140

TANK CAPACITY

COLD

4.2L

HOT

2L

MOTOR POWER CONSUMPTION

90W

HEATER POWER CONSUMPTION

400W
IDE 1670S
DIMENSION(PRODUCT) mm

260 * 480 * 495

DIMENSION(BOX) mm

325 * 525 * 545

TANK CAPACITY

COLD

4.2L

HOT

1.5L

MOTOR POWER CONSUMPTION

90W

HEATER POWER CONSUMPTION

400W
⚠
Click
HERE
to view installed photos